What is Social Impact Summit?
The Social Impact Summit is set to be the largest gathering of social leaders from across Australia's corporate, government and social sectors.  
The Summit takes place at the University of Technology Sydney on 3-4 July 2023 and is an initiative of ImpactInstitute, a purpose-driven impact advisory, storytelling and events firm. 
Mark Jones, CEO ImpactInstitute, says the vision for Social Impact Summit is to foster an active community of social impact leaders who "gain inspiration then act with aspiration." 
"We're at a pivotal moment in Australian business and community life. More needs to be done, yet opportunities to unite social impact leaders and create room for action are notably absent from our professional landscape. We're going to change that," Mark said.     
What can you expect from Social Impact Summit?
The Summit's program is shaped around the theme Together for Good: Accelerating a fair, just and inclusive Australian society. It will feature keynotes, panel conversations and interactive workshop sessions. 
Sara Caspani, an Impact Specialist with ImpactInstitute and Center of Social Impact alumna, is leading program development.
She says the sessions are designed around three streams; 'Profit and Purpose', 'People and Communities' and 'Collective Transformation', with a focus was on transforming vision into action. 
"Social impact leaders told us they don't want another talkfest but an event with a strong focus on creating solutions for lasting change." 
"That crystal-clear purpose is informing all our decisions – from the structure and format of the program to our speakers and the stories they're there to share," she said.   
After the Summit, ImpactInstitute will compile an Executive Report which summarises attendee-generated solutions and key ideas presented at the summit and deliver it to government, corporate and community leaders.   
Who is speaking at Social Impact Summit?
Our fantastic program of speakers is still coming together, but we've already announced a couple to get you excited.  
Hugh McKay AO, social researcher and bestselling author, has been announced a keynote speaker on Day One. Hugh will use his summit keynote to unpack themes from his book, The Kindness Revolution, and spur social impact leaders on to make a difference.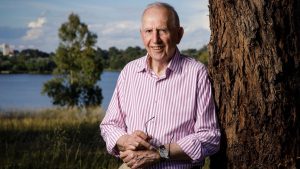 We're also thrilled to welcome television presenter and proud Yankanjatjara and Wirangu woman, Shelley Ware as MC. Shelly will guide delegates through the diverse and co-designed program. 
---
How much are tickets to Social Impact Summit? 
Register now for Early Bird tickets and save $455. Early Bird tickets cost $795 and are on sale from 1 March to 30 April. General Admission tickets cost $1250.